Dorothy Seymour Mills and Harold Seymour
1990: Oxford University Press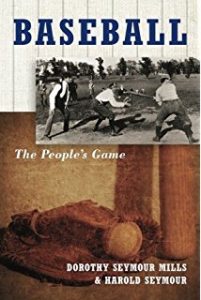 Uniquely devoted entirely to players and teams outside organized baseball, this book gives attention to the amateurs and semipros who provide the foundation for the professional leagues. For the first time a historian writes a book about the college, military, and industrial players, the town teams, the women's teams, black teams, and others who have been ignored by serious writers.
TABLE OF CONTENTS – Baseball: The People's Game
PART ONE – The House of Baseball: The Foundation
1 Sandlot and Cow Pasture
2 Double Curves and Magic Bats
3 Every Mother Ought to Rejoice
4 Scrub Ball Is Not Enough
5 From Sandlot to Municipal Diamond
6 New Sponsors and Old
7 A Sure Way to a Boy's Heart
8 Boys' Baseball in Midpassage
PART TWO – The House of Baseball: The Ground Floor
9 Baseball Goes to College
10 The Principal College Game
11 Husky Muckers Intrude
12 College or Kindergarten
13 Down-Home Baseball
14 Wider Horizons Down Home
15 Time Off to Play Ball
16 Business Prefers Ball Players
17 For Love and Money
18 Tournaments, Trophies, and Cash
19 The Armed Forces Draft Baseball
20 Soldiers and Sailors Play Ball at Home and Abroad
21 The Armed Forces Draft Baseball
22 The Armed Forces After World War I
23 Baseball's Progeny
PART THREE – The House of Baseball: The Basement
24 From Traditional Paths to Base Paths
25 Baseball Breaks into Prison
26 Mostly Home Games
27 Other Breeds Without the Law
PART FOUR – The House of Baseball: The Annex
28 Who Ever Heard of a Girls' Baseball Club?
29 More Diamonds for College Women
30 Women Touch All the Bases
31 Goldilocks Is Benched
32 Intramural versus Intercollegiate Ball for Women
PART FIVE – The House of Baseball: The Outbuilding
33 The Beginnings of Black Baseball
34 If He Had a White Face
35 Not from Dragon's Teeth
36 A Long, Rough Road Still to Travel
37 Two Strikes Called Before You Bat
Bibliographical Note
Index
Reviews of Harold Seymour, Baseball: The People's Game
A SURPRISE TO FANS
Publication of this book, the third in the series, surprised Seymour's fans, who thought he was working on a chronological extension of his history of the majors and minors. Actually, we did perform a lot of research for such a book on the professionals. But while we were living in Asheville, North Carolina, we began to realize that we were collecting so much rich and wonderful material about the amateur and semiprofessional game that it certainly deserved a book of its own. In a long letter we persuaded Oxford to offer a contract for a book on the early amateurs, which would be prepared before we returned to the writing of a chronological history of the majors and minors; that would be a fourth volume. Oxford agreed and extended contracts for both books.
BASEBALL AND YOUTH
One of the most incisive reviews of The People's Game appeared in a magazine called America, a Catholic journal. The writer praised "Seymour's monumental research," saying he had "performed prodigies" into "areas further unexplored" and had written "meticulously detailed accounts of games played" by youth in various aspects of our culture. The reviewer thought much of this "entertaining, even fascinating." In the book, "surprising facts and unforgettable anecdotes abound." The reviewer got the basic point of the book: Seymour "documents . . . attempts to [use] baseball as a tool of indoctrination and conformity, to enlist it in the cause of chauvinism, and to justify [that use] by citing its dubious potential for character-building." In sum, the book "reminds us that even the humblest members of the crowd can participate, enjoy, and share in a challenging and rewarding pastime."
Another reviewer grasped this theme well. Writer Ed Hardy in the Cornell Alumni News explained that "What emerges is the richly detailed picture of a pastoral children's game that soon becomes regulated and appropriated by adults. Long seen as a political safety valve and a badge of assimilation, baseball through the early twentieth century was gradually employed in a number of causes from instilling American values to fostering religious conversion."
GROWING UP WITH BASEBALL
Publishers Weekly put it this way: "Even at its most ragtag, baseball is an important part of growing up American," adding, "Impressively researched and delightful to read, this third installment of [Seymour's] opus is enlivened by Seymour's many wry asides."
A MAJOR WORK
Virginia Kirkus Reviews, which librarians look to for book evaluations, called the book "remarkably well-researched . . . a scholarly, but very accessible, in-depth treasure-trove of baseball information and lore." USA Today said The People's Game "covers all the bases" and is "a major reference work."
Library Journal, too, mentioned the "exhaustive research," saying that "More than a poignant look at fields of dreams, this is a cultural history of America viewed through its national pastime. Particularly fascinating is the tension Seymour describes between the simplicity and freedom of the game itself and the structure and restraints that its organizers on all levels have imposed on it." The book is "highly recommended."
Jonathan Yardley, in the Washington Post, commented that since publication of the second Seymour volume, baseball history, like baseball fiction, statistics, and movies, "has become a major growth industry," and all of it the result of Seymour's idea of entering "uncharted territory." As for The People's Game, the book "both does it justice and pays it tribute."
ACADEMIC RECOGNITION
Professor Paul Gates, who had chaired Seymour's Ph.D. dissertation committee at Cornell forty years earlier, wrote Seymour calling The People's Game "a superb book," saying "you deserve the highest commendation for it."
Other academics recognized the virtues of the book. Professor Warren Goldstein of New York University wrote in the Journal of American History that the book was "unique," for "never before has so much information about baseball outside the major and minor leagues been assembled between two covers. So much, in fact, that a brief review can only gesture at the wealth of material in the book. Moreover, much more successfully than in his earlier books, Seymour links developments in baseball to larger social and cultural contexts." On American Legion ball, for example, Seymour "makes precisely the kind of connection often overlooked by sports historians." And "along he way he tells wonderful stories." The book, said Professor Goldstein, "has remarkable breadth and richness of detail," thus making it "an essential reference work for historians." Seymour, said Goldstein, "has reason to be proud of his achievement. No one has done more to document the history of baseball than Harold Seymour."
The book was also reviewed by scientist Stephen J. Gould of Harvard, who loved baseball and often wrote about it knowledgeably. For the New York Review of Books, Gould wrote a piece called "The Virtues of Nakedness" in which he referred to the three books as "a distinguished series by the doyen of baseball historians" and called The People's Game a "magisterial compendium, referring to Seymour as "the leading professional in a small but growing field of sports history." Gould then conjures up a picture of Seymour as manipulating "hundreds of thousands of index cards" to organize his ideas; he didn't realize (nor did anyone else at the time) that it was Seymour's wife Dorothy who did all that work!
HIS MOST IMPORTANT BOOK
The New York Times said The People's Game is Seymour's "most important book because it raises broader issues about the game and touches the lives of more people," adding that it "is rich, detailed and lavishly researched." Although the book didn't make the New York Times list of Best Sellers, it did make the Times list called "And Bear in Mind," which comprised "Editors' choices of other recent books of particular interest," a term that I've always thought meant "Books that the editors thought should have made the Best Sellers List."