Dorothy Jane Mills, also known as Dorothy Z. Seymour, is the author of this site and her own site at www.DorothyJaneMills.com. She is the widow of Dr. Harold Seymour and was his lifetime collaborator.
---

To learn about Dorothy's work in baseball and other sports, click on her website and find "Sports History" in the menu. Here you'll discover information about her connection with Dr. Seymour's books and the Seymour Medal. You'll also find out exactly what work Dorothy performed on the Seymour Books by reading her article, "A Woman's Work." And you'll find out how Dorothy has continued her interest in sports history while working on other projects.
Oxford's Recognition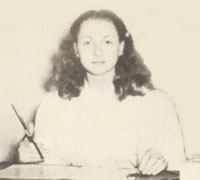 When Dr. Seymour's editor at Oxford University Press, Sheldon Meyer, learned of Dorothy's work on the third volume, Baseball: The People's Game, he wrote her in 1992 that he was "astounded by the news that you had actually written a good part of Volume III and received no credit for it. I don't know whether there is anything we can do to rectify the situation at this late date. It was certainly an injustice to you" and "we thank you deeply for your large contribution." Read Oxford's press release.
Proud Accomplishment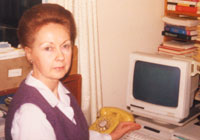 Meyer added, "All three volumes continue to sell in paperback and will remain on our active list for years to come. They do represent the basic history of baseball until 1930, and scholars and other writers and enthusiasts will continue to draw on them in the future. Actually, these three books represent one of the proudest accomplishments of my years at Oxford. It was my great privilege and pleasure to be involved in the publication of this seminal work."
Available Archive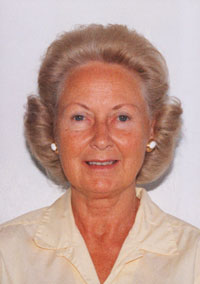 Meyer also asked Dorothy, "What do you plan to do with the research for Volume IV? It should provide at least a valuable research tool for other scholars, and perhaps some scholar in the future might be interested in continuing Seymour's work." Not realizing that this material had been willed to Cornell University, Meyer urged, "this is a valuable archive that should be available in some form."
This valuable archive is of course available, in the form of the Seymour Collection at the Carl A. Kroch Library of Cornell University, where scholars use it frequently for their research into baseball history.
Important Women in Baseball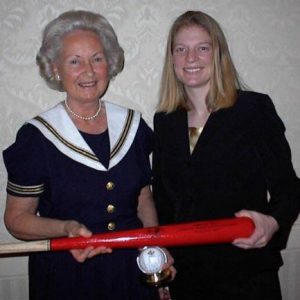 In the year 2000 a SABR committee on Women in Baseball selected Dorothy as one of the 25 most important women in baseball. In 2017, SABR's Women in Baseball Committee established the Dorothy Seymour Mills Lifetime Achievement Award — "The Dorothy" — named in honor of Dorothy Seymour Mills and her lifetime of contributions to promoting women's baseball.