Early Baseball
Over the years Seymour, with my help, published many articles, most of them on baseball history. In 1956 The New-York Historical Society Quarterly printed his "How Baseball Began," explaining that the game came originally from England and had been played there long before Abner Doubleday supposedly "invented" it in Cooperstown in 1839.

In 1986 John Thorn reprinted this article in The Armchair Book of Baseball, published by Scribner's, and announced the piece as "The game's premier historian on the game's central question!" This 40-year-old article is still pertinent, in view of the recent (July 2001) announcement of newly-discovered early references to baseball being played in the United States long before 1939 (The New York Times, July 8, 2001, page 1+ page 18).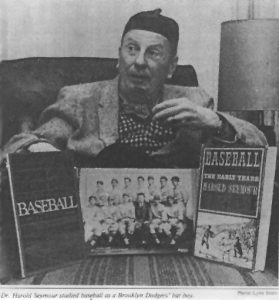 Another early Seymour article was his piece on Harry Wright, called "Baseball's First Professional Manager" for the Ohio Historical Society Journal. A related colorful article, "Surf Baths and Dumbbells," about early spring training activities, appeared in Baseball Digest in April of 1957. An article I particularly enjoying helping Seymour with was one for the Missouri Historical Review, published in 1957, called St. Louis and the Union Baseball War," about the outlaw league often called "the Onions," a colorful group that challenged organized baseball in the 1880s.
Seymour wrote about economic issues in baseball, too, especially in an article for The Industrial Bulletin. And he wrote about legal issues in baseball in an article called "Ball, Bat and Bar," for the Cleveland-Marshall Law School Journal.
Reviews and Encyclopedia Entries
Besides articles Seymour was also invited to write reviews of other baseball books and education books for scholarly journals. He reviewed Eugene Murdoch's book on Ban Johnson, for example. Several times he responded to requests to write for encyclopedias. He wrote the Babe Ruth piece for the American Biographical Encyclopedia and the pieces on Clark Griffith and Grover Cleveland Alexander for the Dictionary of American Biography.
He wrote on baseball for Chambers's Encyclopedia, a British publication. To the Jefferson Encyclopedia he contributed an 1100-word article on baseball. While we were in Ireland he produced the entry on baseball history, along with several entries about well-known players, for the Oxford Companion to Sports and Games, published in London in 1975.
Collaboration
I was Seymour's collaborator on these articles, reviews, and encyclopedia pieces. Here is one example. In 1978 Seymour was asked to review a sports history textbook that was being revised. In advance of Seymour's reading of the text, I read it critically and produced a long chapter-by-chapter critique that he used in making his own comments on the book.
Baseball Speeches
Several versions of Seymour's speech, "Baseball: Mirror of American Life," were presented to various audiences both public and academic. Late in his life, at a time when he was beginning to feel unable to travel, invitations to speak came often. He did agree to take part in the annual Cooperstown Symposium on Baseball in the American Culture in 1990, when the organizer, Dr. Alvin Hall of Oneonta, requested that he become keynote speaker. We wrote the speech together, and I delivered it for him. At the time of the Symposium the Oneonta Star pointed out that Seymour "is credited with paving the way for other scholars to study the sport legitimately." It quoted Dr. Hall as remarking that, before Seymour's efforts, "Baseball was too trivial for serious academic inquiry." He added that the previous year's symposium attracted more than a hundred scholars studying baseball and the current year's would bring in about the same number.
Seymour was also recognized at Cleveland in January of 1991 in its "Celebration of Baseball" held at Cleveland State University, formerly Fenn College, where he had, ironically, been fired from the faculty back in 1950. Again we prepared the speech jointly, and I delivered it. Afterward, the CSU Magazine reported on Seymour as "baseball's foremost historian and academic chronicler of baseball." Seymour, said the writer, "has taken a pastime and examined it with scrutiny and care. He has elevated the sport to a study, and has justified doing so by validly pointing to the wide range of people and places that baseball has affected." One of the other speakers at the conference was W.P. Kinsella.