The Casey Award
In 1991 The People's Game won The Casey Award, given annually by Spitball: The Literary Baseball Magazine. Editor Mike Shannon said it won conclusively over all finalists, including George Will's Men at Work. Since Seymour didn't feel up to traveling to accept the award at the Spitball banquet, I arranged to have a local photographer make a videotape of his necessarily-short acceptance speech; by then his health was in steep decline. I prepared his remarks in about five short sentences, writing them in very large type on a card, so that he could read them before the camera. He did so, weakly and ineffectively, but he accomplished the task. The Cooperstown Hall of Fame asked for a copy of this video for its archives, and I sent it.
The Macmillan-SABR Award
The People's Game also won the Macmillan-SABR Award as best book of the year. This was a cash prize, and I traveled to Cleveland to attend the SABR Convention and accept the Award for Seymour.
New Jersey Author Award
In 1991 the Drew Alumni Association's Herman Estrin informed Seymour that he had just won an award as one of the best New Jersey authors; he qualified for the award because of having been a New Jersey resident while attending college. It was The People's Game that had inspired this award, too.
The NASSH Award
And the book won another award: The annual recognition of the best book by the North American Society for Sport History. The NASSH award refers to Seymour accurately as "the father of baseball history."
The Drew Alumni Award
Drew University gave Seymour an alumni award, too, inducting him into the Drew University Athletic Hall of Fame in September of 1991. This award recognized "your stellar achievements as a varsity athlete, team leadership and spirit, and your continued dedication to the development of young people through athletics."
The year 1991 was Award Year!
Recognition as Author
Seymour is also listed in encyclopedias. He was asked to furnish information about himself and his career for Contemporary Authors, an American biographical encyclopedia, and for the Dictionary of International Biography, published in Cambridge, England. He is also listed in the Dictionary of American Scholars.
His Own Baseball Card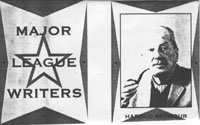 Seymour has also been recognized in a different way: he has his own baseball card! In 1990 a representative of a card company named Little Sun phoned to ask permission to include him in a proposed new card set called "Major League Writers." We furnished a photo and the information needed, and the company produced 5,000 sets of these, sold in groups representing 23 writers. Others in the "Major League Writers" series include Henry Chadwick, Roger Kahn, Red Smith, Jim Bouton, and W.P. Kinsella.
Little Sun distributed this set through Ball Four Cards. Recent efforts to reach these companies have been unsuccessful, but you can see a set of the cards on display in Cooperstown at the Baseball Hall of Fame and Museum. If you happen to own this set yourself, you are lucky, for it's doubtless out of print and therefore valuable.
The Seymour Award
The ultimate honor in life for a writer is having a literary award named after you. That happened in the final year of Seymour's life, when the Society for American Baseball Research set up an award called the Seymour Medal. SABR's annual award, named for both of us and bestowed annually to the author of the best book of baseball history or biography published in the previous year.